Landscaping Services in Maryland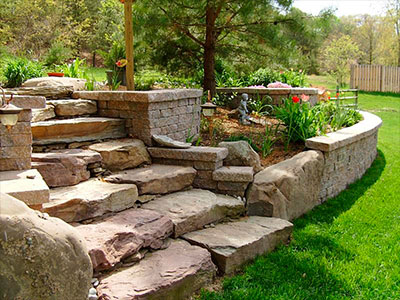 Creating customized, functional, and beautiful landscapes takes decades of experience. Every greenscaping or hardscaping project requires an assessment of dozens of factors. Whether it is about installing new greenscapes, paver patios, water features, or outdoor kitchens, it is an art that takes time to master. At Continental Landscaping, Inc., we have over 30 years of experience in designing and installing customized landscapes. We serve both residential and commercial clients Central MD and surround areas. Explore the different services that we offer and how we can make a difference to your landscape.


Hardscapes
Hardscapes define your outdoor lifestyle, and we specialize in designing and building all the features you will need to create an entertaining and relaxing outdoor living area. Our team of experienced and skilled designers and masons can create custom paver patios, driveways, and walkways. We install retaining walls and free-standing walls using both man-made and natural materials. We build outdoor fireplaces, kitchens, and grills to help you create elegant outdoor space to prepare and enjoy meals and entertain friends even on cold nights. All our hardscaping solutions are customized to client preferences and needs, and the outdoor space and theme. Read More About Hardscapes »


Pavers
Pavers have a classic appeal which is why they are used so widely in landscaping and hardscaping projects on commercial as well as residential properties. The interesting aspect is that pavers are now available in a wide range of colors, shapes, sizes, and textures. Paving stones are also available in various materials that include brick, concrete, and natural stone. With all the selections, it means that the design possibilities are endless. We can help you to custom design a new driveway, patio, walkway, or pool deck that will be the envy of the entire neighborhood! Read More About Pavers »


Greenscapes
We specialize in greenscape installation to create beautiful and theme-based landscapes that meet all the client parameters. Trees, flowering plants, shrubs, and lawns are the most important elements that complete any landscape and we have over 30 years of experience in creating individualized greenscapes. All our plants and trees are supplied by certified nursery growers. We use only top-quality vegetation from suppliers that we have built long-standing and reliable relationships with. Our team of horticulturists, designers, and craftsmen take pride in installing seasonal colors. From site evaluation to concept design to defining budgets to code compliance, we take care of everything. Read More About Greenscapes »


Retaining Walls
With over three decades of experience in creating durable and long-lasting retaining walls, we can build walls to address all kinds of landscape challenges. Some of the challenges that our clients often face include erosion, ground slopes, and drainage and run-off problems. While natural stone is the most popular material of choice, we also build walls from manufactured stone, concrete blocks, and brick. From new installation to replacement of old walls, we have the expertise in handling everything. We can help you choose a material and design depending on the theme of your landscape. Whether your property needs curved, tiered, or sitting walls, we can create everything. Read More About Retaining Walls »


Water Features
We design and create customized and creative water features that bring your yard to life. From ponds to waterfalls, we install all types of features to bring the soothing effects and bubbling acoustics of natural water into your outdoor living area. Our experienced water feature experts can transform an ordinary-looking yard into an elegant and relaxing oasis. We can create water gardens, waterfalls, fountains, ponds, and offer the option of many pond enhancements. If you require, we can create water features with habitats that draw birds and butterflies. Some of the enhancements we offer include mountain boulders, river gravel, underwater lighting, and various plants. Read More About Water Features »


Fireplaces
&

Stone Veneer Fireplaces do much more than create a place to prepare meals. We design and build outdoor fireplaces that add warmth to your lifestyle, allowing you to entertain guests and spend quality time with family. We specialize in building stone veneer fireplaces that are durable and last for generations. Our team comprises specialized masonry concrete designers with decades of experience. Besides fireplaces, we also build bars, walls, and other natural stone veneered surfaces, both interior, and exterior. Stone veneer fireplaces last almost forever, require minimal maintenance, and are sturdy not to be damaged by fire. We can also create customized looks using different types of stones. Read More About Fireplaces & Stone Veneer »


Outdoor Lighting
Our energy-efficient outdoor lighting solutions create beautiful and safer outdoors after dusk. With decades of experience in the industry, we have the know-how and skills to effectively illuminate patios, walkways, and vegetation. We also install lighting to highlight the architectural elegance of your building. From low-voltage lighting to LED, we use all types of systems. Accent lighting, down lighting, garden illumination, and pool illumination are just a few of our specializations. We provide full-service design, installation, and maintenance services for low-voltage outdoor lighting systems. When creating your outdoor lighting systems, we take all the factors into account including aesthetics, safety, and security around your landscape. Read More About Outdoor Lighting »

We at Continental Landscaping, Inc. provide a complete range of landscaping and hardscaping solutions in Severn, MD. Our experience in all areas of landscaping provides us unique insights that help us create better solutions for our clients. If you need more information about our services, get in touch with us at 410-969-8260 or write to us using this Online Form.